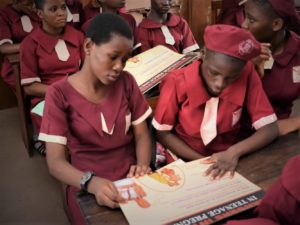 Several articles (Nweze, 2013; Fullerton, 2013; Druchen, 2010; Eleweke, Agboola & Guteng, 2015; Asonye, Emma-Asonye & Edward, 2018; Asonye, 2019) have discussed, from various perspectives the challenges deaf people face in Africa, including family, community, education, employment, etc. Our Beauty Beyond Speech Project launched in 2017 in Nigeria, scaled up in 2019 has been focused on investigating all forms of domestic and sexual abuse against deaf girls in Nigeria. This article is aimed at discussing from a more general point of view, the challenges deaf children and girls face in Nigeria, and by extension, Africa. This is to lay a broader foundation for the series of forthcoming arguments and advocacy for the protection of deaf children (and deaf girls in particular) in African society and to reiterate the need for the total inclusion of deaf individuals in the community development and nation building policies.
Centuries after the abolishment of certain cultural practices that established the killing of twin children and children with marked form of disabilities, certain cultural practices still impose substantial amount of hardship and stigmatization on the parents of children with disabilities and the children themselves (Ademokoya & Ben-Stowe, 2007). The situation is often worse when the disability is congenital hearing loss and when the baby born is a girl. Parents of the baby might run the risk of losing their marriage or their community identity when the hearing loss is revealed, because the child might be tagged accursed (Ademokoya & Ben-Stowe, 2007; Mba, 1991; Alake, 1988). As much as this might sound bizarre in a 21st Century world, these cultural ideologies seem to be mentally extended, observed and sustained by individuals that grew up from such communities or have witnessed these practices. Consequently, studies carried out in  Lagos show a significant percentage of health workers, who believe that disabilities such as autism and deafness are spiritual problems – from the gods (Bakare & Munir, 2011; Aremu, Afolabi, Alabi & Elemunkan (2011).
Two categories of deaf people have been identified in Nigeria (Asonye, 2019b) – those who became deaf as adults (post-lingual Deaf) and those who became deaf as children (pre-lingual Deaf). While the latter is identified at the center of Deaf marginalization ("the marginalized of the marginalized"), deaf girls are equally identified in this category. While the post-lingual Deaf have better chances of education, communication, inclusion and personal development, the pre-lingual Deaf have almost zero chances of these rights and privileges and pre-lingual deaf girls seem to be in much greater peril. It is no doubt that some parents and families still have little faith in the education of the girl child; when that girl child is deaf, chances of education and development seem to be slimmer.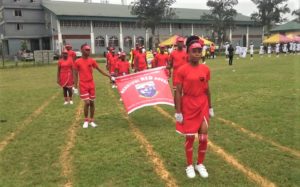 Some scholarly works have questioned the mental health and wellbeing of deaf people in Africa and other communities resulting from communication breakdown (The Lancet, 2012; Felinger, Holzinger & Pollard, 2012; Asonye, Rarrick, 2016), but much worse than communication breakdown is the amount of stigmatization and abuse that pre-lingual deaf girls go through in their lifetime. We cannot help but talk about Chinyere again, the deaf girl athlete, who represented Nigeria in track event in Minnesota in 1990; who won a gold medal that was never celebrated and Chinyere, an Elementary four pupil in a Deaf school in Enugu Nigeria at the time she became a gold medalist, never finished Elementary school. She is forgotten till today.
To some, the case of Chinyere may sound like an abstract one. How about the case of 145 deaf girl students that were screened for infections in a Deaf school in Imo State Nigeria, 103 of whom were found to have sexually transmitted diseases and have been sexually abused in both school and at home, yet unknown to their parents? What do we say about the multitude of deaf girls on the streets, sent out to beg by some deaf impostors? These girls are luered into leaving school and their homes, and they are given printed envelopes with names of unknown schools and signatures of unknown School Heads meant for begging alms from individuals. In many cases, these girls do not return home and they are believed to have fallen victims to traffickers or ritualists; while some lucky ones would move in with unknown men and start raising children with them. As these things are said and believed to be happening, especially because hearing loss in children seem to be prevalent in low-income homes (Asonye, 2017) and parents are vulnerable, parents with some financial strength and opportunities fight hard to offer their children a friendlier and more inclusive environment outside of the country.
Unfortunately, the number of parents with possible means of offering their deaf children a better growing environment cannot be compared to those that do not have, as the former is much higher. While we sincerely encourage parents with such a means and power to do so, we have chosen to advocate for those who cannot afford such a privilege through our Beauty Beyond Speech project. We therefore call on individuals and governments of our society to lend their voices and resources to the BBS project – help us stop and eliminate all forms of domestic and sexual abuse which Nigerian deaf girls face through their lifetime. This is a clarion call!
References
Ademokoya, J. A., & Ben-Stowe, J. N. (2007). Experiences of mothers of children with hearing disability in Oyo State, Nigeria. The Social Sciences, 2(3):293-297. Medwell Journals
Alake, S. F. (1988). Primary education for deaf children in Nigeria. In Taylor, I. G. (Ed). The
education of the deaf: Current perspectives, 4: 1957-1963.
Aremu, S.K., Afolabi, O.A., Alabi, B.S., & Elemunkan, I.O. (2001). Epidemiological profile of
speech and language disorder in North Central Nigeria. International Journal of Biological Science. 7 (4), 268-272.
Asonye, E. (2017). Community-Based Intervention in Nigeria, Africa: My 3 Years' Experience. Lecture delivered at Speech and Hearing Sciences, University of New Mexico. Feb 2017.
Asonye, E. (2019, Jan. 26). Now that the disability bill is signed [Blog Post].
https://www.s-deli.org/now-that-disability-right-bill-is-signed/ S-DELI Blog page.
Asonye, E. (2019, Feb 1). Now that the disability bill is signed: Episode 2 [Blog Post].
https://www.s-deli.org/now-that-the-disability-bill-is-signed-episode-2/ S-DELI Blog page.
Asonye, E., Edward, M. & Emma-Asonye, E.  (2018). Deaf in Nigeria: A preliminary study
on isolated Deaf communities. Sage Open. https://journals.sagepub.com/doi/abs/10.1177/2158244018786538.
Asonye, E. and Rarrick, S. (2017). Wellness and linguistic barriers in Deaf communities in
Nigeria and Papua New Guinea. Presented at the 5th International Conference on Language Documentation and Conservation. University of Hawaii, Honolulu. March 5, 2017. Doi: http://hdl.handle.net/10125/42056. Retrieved from ICLDC website, Sept 14, 2017. https://scholarspace.manoa.hawaii.edu/handle/10125/42056
Bakare, M.O., & Munir, K.M. (2011). Autism spectrum disorder in Africa. In Mohammadi, M. (ed). A Comprehensive Book on Autism Spectrum Disorder. Shanghai: InTech.
Druchen, B. P. N. (2010). Challenges and Resolutions for the Deaf Education Sector in
South Africa. American Annals of the Deaf, 155(4): 496-498. DOI:
https://doi.org/10.1353/aad.2010.0046
Eleweke, J., Agboola, I., and Guteng, S. (2015). "Reviewing the Pioneering Roles of Gallaudet University Alumni in Advancing Deaf Education and Services in Developing Countries: Insights and Challenges from Nigeria". American Annals of the Deaf. 160(2) 75+. January 1, 2015. ProQuest LLC. https://www.questia.com/read/1P3-3767020871/reviewing-the-pioneering-roles-of-gallaudet-university (Accessed Nov 23, 2016).
Fellinger, J., Holzinger, D., & Pollard, R. (2012). The health of deaf people. The Lancet, 379: 1037-44
Fullerton, K. (2016, Aug 25). Deafness in Sub-Saharan Africa [Blog Post]. Project Muse, Deaf Link Uganda. https://borgenproject.org/deafness-in-sub-saharan-africa/ Accessed: April 12, 2019.
Mba, P. O. (1991). Element of special education. Ibadan: Codat Publication.
Nweze, C. (2013). "The Deaf: Their painful, lonely world." The Nations Magazine.
Saturday, May 25, 2013. http://thenationonlineng.net/deaf-painful-lonely-world/
The Lancet (2012). The health of deaf people: communication breakdown, 379.
www.thelancet.com. Accessed: December 2017.